Landscape & Hardscape Services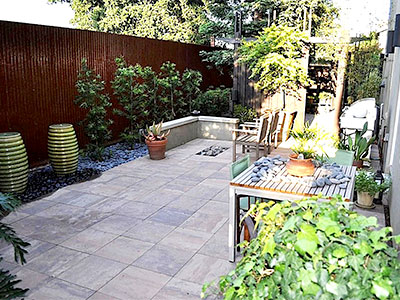 We at LR Landscaping & Pavers provide a variety of landscaping and paver installation services to customers in and around Sacramento, Auburn, Roseville and Folsom. Over the years, we have also catered to a large number of clients in and around Citrus Heights, Rancho Cordova and Rocklin. Our company has also successfully completed projects in Lincoln, Fair Oaks, Yuba City and the surrounding areas.


Paver Patios
Transforming your backyard into an inviting space is easy with a beautiful patio. As an extension of your indoor living area, selecting materials that complement both indoor and outdoor spaces is essential. Our professional team provides cost-effective and high-quality paver patio installations that are durable and versatile. You can choose from various materials, such as natural stone, concrete, and brick pavers, which are long-lasting and ideal for outdoor environments. Our team of experts has the experience and knowledge to install these interlocking pavers swiftly and efficiently to bring your patio vision to life in the shortest amount of time possible. We will guide you through the process and help you choose the suitable paver material that meets your needs and budget. We specialize in creating unique paver patterns that enhance the beauty and style of your backyard or landscape. Our team pays attention to every detail to ensure that your patio looks great and functions well for years. Read More About Paver Patios »


Paver Driveways
Paver driveways are a popular choice for residential and commercial properties alike. Why settle for a plain, dull driveway when you can have a durable and visually appealing one? Interlocking pavers offer a level of reliability that's hard to match with other materials like concrete, asphalt, or gravel. They can easily last over 40 years with proper maintenance, making them an excellent investment for any property owner. Our company specializes in installing high-quality paver driveways that are both functional and beautiful. Whether you prefer the classic look of brick or the sleek appearance of natural stone, we offer a wide range of materials and designs. Plus, if you already have a tired concrete driveway, we can help you upgrade to a more attractive paver installation. We pride ourselves on providing our clients with sturdy, robust surfaces that handle heavy pedestrian and vehicular traffic. Our team of skilled technicians follows processes that ensure you get a long-lasting and reliable driveway that will serve you well for years to come. Read More About Paver Driveways »


Paver Walkways
Paver walkways can be the perfect way to enhance the look of your outdoor spaces and give your landscape a unique touch. With our expert paver installation services, we can help you create a custom-designed pathway that looks stunning and serves a practical purpose. Our walkways can increase your property's curb appeal and improve the overall flow of your landscape. Our company specializes in designing and installing brick, concrete, and natural stone pavers. Our team of professionals can provide you with all the necessary information to choose the best pavers for your application. We use only high-quality materials to ensure that your walkways look great and are durable. Pavers are available in various shapes, sizes, styles, and colors, so you can choose the perfect combination to match your style. Our walkways are functional, highly long-lasting, and require minimal maintenance. We take pride in our work and strive to ensure that every project meets the highest industry standards. Read More About Paver Walkways »


Pool Decks
Are you looking to create a pool area that is both functional and visually appealing? Look no further than our team of experts! Our specialty is designing and installing pool decking that beautifully showcases your swimming pool. Whether you need a completely new pool area or an update to an existing one, we have the skills and experience necessary to get the job done right. One of the most significant benefits of adding a pool deck to your property is its additional usable space. With our help, you can create a space where you, your family, and friends can enjoy relaxed poolside moments. Our team will work closely with you to match your specifications and create a pool deck that perfectly complements the style and beauty of your backyard or landscape. We are passionate about turning the area surrounding your pool's decking into a wonderful entertainment zone. Our creative team uses the best materials in our work, ensuring that your pool deck is visually stunning, long-lasting, and functional. Read More About Pool Decks »


Outdoor Living Spaces
As expert landscapers, we have the expertise to design and install various outdoor living spaces such as outdoor kitchens, decks, patios, pool decks, gazebos and pergolas. Our customized solutions help ensure that every feature on your property is designed and built in an expert manner. The best materials and workmanship are used in the work and this ensures the installations are not just aesthetically appealing but very long-lasting too. We take extra care to choose weather-resistant materials as these features are constantly exposed to the elements and have to withstand a considerable amount of wear and tear. Read More About Outdoor Living Spaces »


Retaining Walls
Retaining walls are generally built in landscaped areas where slopes have been dug to make space for outdoor features. These walls are built using CMUs; they are very effective in preventing soil erosion and help adds to the stability and integrity of the landscape. We have the knowledge, expertise and resources to provide excellent retaining wall solutions that meet the needs of your landscape. Not only do these walls have to be built well but the location needs to be planned properly too for them to be effective in preventing soil erosion. Read More About Retaining Walls »


Sitting Walls
Many areas in your landscape need seating features and it's why you add outdoor furniture to your patio, decks and lawn areas. You also have the option to get seating walls built in your landscape. These walls typically serve a dual purpose as they perform the function of a retaining wall and provide support to the landscape as well as provide a seating area at specific points in the landscape. These are half-height walls that can be built around a fireplace or fire pit area, along the periphery of a patio, deck or outdoor kitchen etc. Read More About Sitting Walls »

For any more information on our products and services, feel free to contact LR Landscaping & Pavers at 916-502-6037. You can also send us queries and requests via this Contact Us form.